The Airport Cooperative Research Program; Transportation Research Board; National
Academies of Sciences, Engineering, and Medicine  contributed to a report to the FAA in 2016  titled Optimizing the Use of Aircraft Deicing and Anti-Icing Fluids.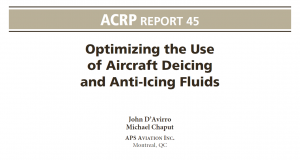 This focus group did an in-depth review of the technology/process improvement programs underway or  available that could positively impact winter operations in the airline industry and we commend them in their efforts.
We took a look at the results and found some significant findings with respect to Remote On Ground Ice Detection Systems. (ROGIDS) . Here are our findings:
There are four areas that a ROGIDS would directly impact or remove the impediments to implementation.
Item 9. Remote ice detection sensors to scan aircraft critical
surfaces before departure runway

Ice detection systems that are mounted (fixed or mobile) close to the runway threshold, enabling the determination of aircraft surface condition prior to departure;

Item 10. Spot deicing for frost

Use of very limited quantities of glycol-based fluids for frost deicing in a controlled application;

Item 11. Spray-and-go deicing

De/anti-icing operation conducted near the runway threshold, enabling increased use of Type I deicing fluids as the primary tool and less thickened fluid application

Item 13. Threshold deicing

Development and use of remote threshold deicing pads at airports, similar to those built in Munich, Germany. This approach would limit quantities of thickened fluids employed, as the departure point is in close proximity to the application area;
Item 9 Remote ice detection sensors to scan aircraft critical
Requires the availability of a ROGIDS unit. This has been accomplished via the availability of the Simbiotix IceCam. It has been made available in 2017 and is currently performing Operational Evaluations over the 2016-2017 winter. Results will be published by the testing organization in short order.
Benefits
SAFETY-  Improves safety as it shows clear ice and frost on aircraft surfaces and runways.

Removes training impediments to other deicing optimization areas such as Spot Deicing
Does not impact current deicing procedures as sensor does not impact the deicer operation
Works from 3-18M allowing for inspection of aircraft at runway thresholds
Small in size and can be attached to smaller deicing trucks that can be used at airport gates
Low operational costs
Environmental Impact.
Inherits the environmental reductions of the current optimizing programs that are inhibited by significant training efforts.
Item 10. Spot deicing for frost, Item 11. Spray-and-go deicing, Item 13. Threshold deicing
Impediments to implementation
Training
Currently highly skilled deicers are required (Ranked 5th, 6th and 7th in terms of training effort)
Thereafter, the extent of the training requirement grew
according to the increase in complexity of the procedure or
technology.
Benefits
Environmental Impact.
Items 10,11 and 13  are the top three optimizations that show significant reduction in the  environmental footprint of the airline activities.
One such case is Item 10, Spot deicing for frost,
which can result in a substantial reduction in aircraft fuel
burn and its associated impact on the environment.

Item 13, Threshold deicing, and Item 11, Spray-and-go
deicing, provide an opportunity to reduce the amount of
fluid (especially Type IV fluid) sprayed. Additionally, these
approaches remove the problem of fluid dripping from aircraft
surfaces while taxiing to the departure runway.
Conclusion
The IceCam ROGIDS significantly reduces the level of training that deicers require with respect to the identification of ice contamination. Simply point the camera at the surface and the contamination is shown in real-time, reducing the time required to visibly identify ice and increase the confidence of the contamination removal.
References – ACRP Report 45 is available at http://nap.edu/14517